So after probably three years of deciding whether I wanted one or not, I finally got 'inked' yesterday!
The design I decided to go with in the end was to represent the proposal of marriage, which I made on my recent Caribbean Cruise with my girlfriend and her family.
I had a good idea of the design and how I wanted it to look but turned to awesome designer Colin Miller who I spotted on Dribbble to come up with a proper flash design of my tattoo – I was delighted with the results.
Next, was to find someone who could actually do the tattoo for me. I've been in a few tattoo shops over the years and have always come away dissapointed, a lot of shops seem to think 'if it isn't in the book, we can't do it' – it becomes a chore for them instead of a passion.
I wanted a custom tattoo and wasn't going to settle for anything else. In the end I was recommended a local tattooist to me by a good friend of mine, who thought his art style and the concept I'd had drawn up by Colin would be a good match – and as it turns out it was.
I got in touch with Sway who said he would probably redraw the tattoo a bit (great, someone who cares!). When I arrived he had essentially redrawn the tattoo and if I'm honest it looked miles better than what I had before I met him.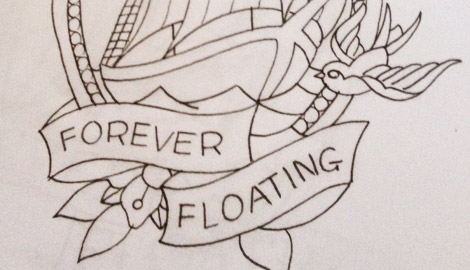 Sways redraw (Click to enlarge)
The tattoo was the right size for my arm, the concerns I had of the flash drawing had been eradicated and there were improvements which just put the design to the next level.
I am so happy with the result and would personally like to thank Colin and Sway for their efforts in getting me my first ever tattoo so very right – I'll definitely be getting more now.